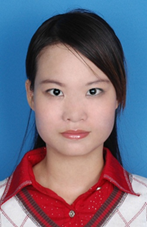 Jiangnan Huang

Research Assistant 
Integrated Composite Laboratory (ICL)
Department of Chemical & Biomolecular Engineering 
University of Tennessee
Knoxville, Tennessee 37996 USA 
Email: ginahuang2014@gmail.com, xiacaojinnang@163.com
Research Interests                                                                                                                            
Polymer Foaming Process
Electrospining and Carbon Fibers
Polymer Nanocomposites
Education Experience                                                                                                                                                                                                                                                                                                                                          
The University of Tennessee, Knoxville   
Major: Chemical Engineering    Visiting Scholar (2014-Now)
South China University of Technology, Guangzhou
Major: Materials Processing Engineering,    Ph.D Candidate,        2012.9-Now
Guangzhou University, Guangzhou
Major: Chemical Technology,    Master,     2009.9-2012.6
XiangTan University, Xiangtan
Major: Bioengineering, Bachelor    2009.9-2012.6
Peer-Reviewed Journal Publications                                                                                              
Jiang-Nan Huang, Xin Jing, Li-Hong Geng, Bin-Yi Chen, Hao-Yang Mia, Xiang-Fang Peng. A novel multiple soaking temperature (MST) method to prepare polylactic acid foams with bi-modal open-pore structure and their potential in tissue engineering applications [J]. Journal of Supercritical Fluids, 2015, 103:28-37.
Huang Jiangnan, Zou Hanbo, Lin Weimin et al. NiMoC/γ-Al2O3 Catalyst for Tri-Reforming of Methane [J]. Petrochem Ical Technology, 2012, 41(3):54-259.
Xiangfang Peng, Jinwei Chen, Tairong Kuang, Peng Yu, and Jiangnan Huang. Simultaneous Reinforcing and Toughening of High Impact Polystyrene with A Novel Processing Method of Loop Oscillating Push-pull Molding [J]. Materials Letters, 2014, 123: 55-58.
Ding Y H, Zhang P, Huang J N et al. Synthesis and electrochemical proerties of Co3O4 nanofibers as anode materials fof lithium-ion batteries [J]. Materials Letters, 2008, 62(19): 3410-3412.
Ding Y H, Zhang P, Huang J N et al. AFM characterization and electrochemical property of Ag nanowires by modified AAO template method [J]. Journal of Alloys and Compounds, 2008, 446 (1-2): 479-482.
Zhang Jihong, Luo Zeyu, Huang Jiangnnan et al. Extraction of Capsaicin and Its Anti-microbial Acitvity[J]. Acta Laser Biology Sinica, 2010, 4: 507-510.
Ding Yanhuai, Duan Xiaoqiang, Huang Jiangnan et al. Forming Mechanisms of AAO Template Monitored by AFM [J]. Natural Science Journal of Xiangtan University, 2009, 31(1): 44-46.
Top leader in 5000 academic theses of Chinese sci-tech journal              Sep 27, 2013
The third-class excellence scholarship of Guangzhou University              Nov 24, 2010
The second class prize of oral presentation in the first chemistry and chemical engineering graduate seminar of Guangzhou University                                                                   Dec, 2011